There is something exciting about going to a new water, a slight anxiety, "Will I be able to find it, is there somewhere to park, will I catch anything?" Then there is the anticipation of catching fish, because a new water holds out the promise of success and I haven't blanked there yet made me really look forward to my trip. Then, of course there is the matter of not going fishing since before Christmas which made me look forward to the session even more.
The morning was fairly mild and the strong winds of the previous days had died down and there was a bit of brightness in the sky as I set off. It was getting on in the morning as I had my chores to do and it takes me a little while to get going theses days. I found it alright, thanks Google Maps and Streetview, and there was even somewhere to park next to a couple of other cars. The lake was long and thin and I saw an angler on the side nearest to the car park so strolled down to see him. In fact his friend was in the next swim and after chatting for a few minutes I found that neither of them had caught anything as they said they were in the wrong place and they should have been a bit further back towards the car park. It being my first time and the lake not looking a lot different anywhere along its length I decided to take their advice and found a decent platform not far from the car and set up my gear. I had just brought my feeder and float rods as I wasn't expecting to catch anything big and soon had the feeder rod out with a small hybrid feeder and a couple of maggots on the hook. Then I discovered one of the problems with fishing on a wooden platform, there was nowhere to put a rod rest so I ended up just lying my rod on its side. I was to hear more about that later!
I started getting the float rod ready when much to my surprise a carp of a few pounds swam right past my swim just a yard or two out! I carried on getting ready when I heard the distinctive slurp of a carp feeding off the surface. "Right," I thought, "Let's put some bread out and see if they come to it." So I did, and a few minutes later it was being eaten by a couple of fish. These two must have called their mates as shortly after there were half a dozen fish slurping away. The float rod was set up and I cast it out near to the fish and they took no notice so I tossed a handful of maggots in and they ignored them while continuing to guzzle the bread, it was time for drastic action! I quickly took the float and split shot off the line and found the largest hook in my box, a size ten, and cast my bread upon the waters.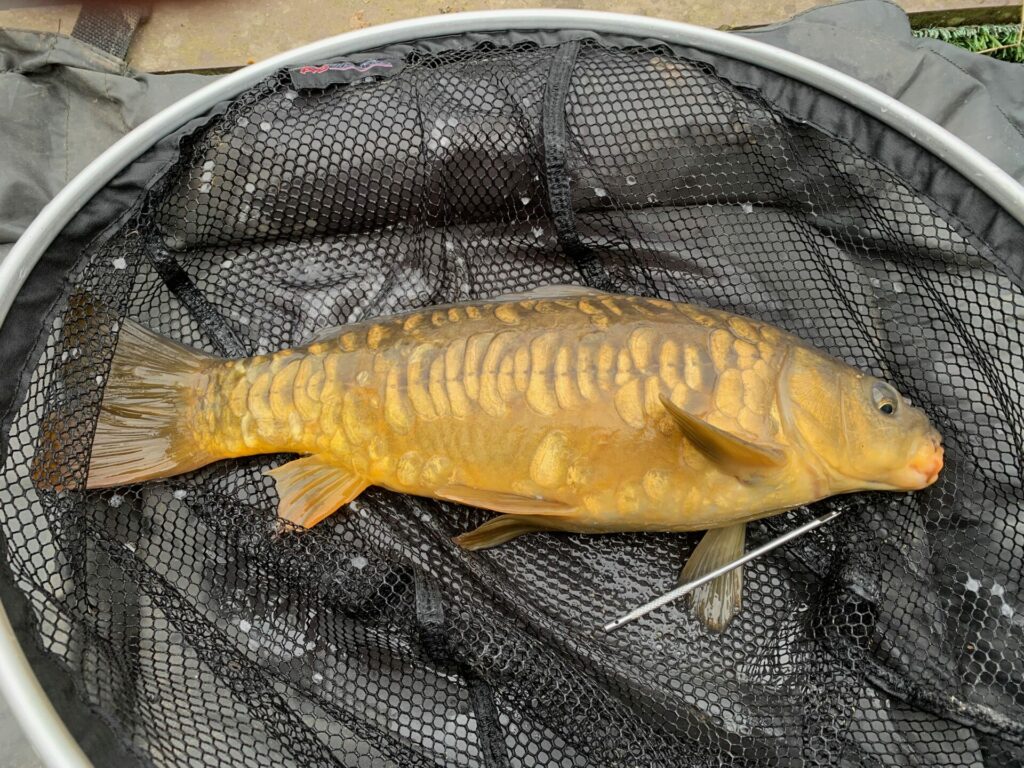 I have got to really like catching fish off the surface and managed quite a few over the last year but I didn't think that I would be doing it at the beginning of February! My float rod has only got a light line on it but I know that it will deal with bigger fish if I take it gently from my experience last summer so I was confident I could land any fish in the water. The first couple of casts came to nothing with the bread coming off the hook as it was nosed by a fish but soon one had taken the hook and I was in! I took it gently and after a couple of minutes the fish was in the net and safely landed. A mirror carp, not too big, four or five pounds I guess but it was a fish and after my run of poor form I was elated! It was quickly returned but before I cast out again the quiver tip started twitching and I was soon into another fish, a common of about the same weight. Then came another on the bread before a voice behind me asked how I was getting on. It turned out to be the Bailiff but it was alright as I had a ticket so we chatted for a few minutes before he moved on but not before telling me to keep an eye on my feeder rod as the bites could be fierce and the rod would end up in the water!
After that the fishing was quite consistent, I caught another carp on the feeder and a total of five off the surface, the biggest fish weighed in at seven and a half pounds and I took a while to land it under the watchful eye of the Bailiff stood on the opposite bank. Soon the time was getting on and I decided to wrap up what had been my best day's fishing for ages. During the day I had seen a kingfisher streak past and been visited by the obligatory robin and caught seven fish so I was well pleased with myself. As I was packing up the Bailiff stopped by again, he had been supervising a match on the other lake on the site where weights had been poor so I had chosen the right place to fish! As we were chatting the fish continued to suck up my bread and we counted eleven of them at one time.
On the way home I had plenty to think about, how well my 10ft Maver rod stood up to reasonable sized fish, how to keep the feeder rod from getting pulled off the platform and the surprise at getting carp feeding off the top in the first week of February. Later I had a look on the Internet at stalking rods and techniques for fishing off the surface. I like using bread but mine was a bit dry and crumbly and didn't stay on the hook very well and I wonder if some brands are better than others. Also, whether or not to use a hair rig and why some fish would ignore the bait if it was on its own or if they were on their own. I seemed to get more bites when there were a few fish competing for the bread, maybe they had thrown caution to the winds and decided to go for it before their mates got there first! I used my proper carp rods for surface fishing before but maybe they are a bit heavy for the size of fish I was catching, perhaps a lighter stalking rod would be a good addition to my armoury, after all I saw on Facebook that February is, "Buy your husband a fishing rod month" so it must be true!