Now that it is Saturday it is time to update my Blog. We get back to the story after a few months had passed since I started fishing again and it was now mid October. The fish were still biting and I thought that I would try as many of the club's waters as possible before winter set in.
This one looks like it used to be a gravel pit and is supposed to be good to fish. The ground was a bit wet after some rain so I put on my waterproof trousers and wellies and went to have a look, chatting to a couple of anglers on the way, keeping my social distance of course! I had nearly got back to the car when I found that my phone was no longer in my pocket! I had used it to take some pictures half way around the lake so I knew that I had it with me so I started to re-trace my steps. First stop was the swim where I had just been chatting to a guy but it wasn't there. He was great though and said that if I gave him my number he would ring it until I found it. A couple of hundred yards later and I could hear the ringtone and soon homed in on my phone, great relief all round! Walking back I thanked him and as he was packing up he even gave me some of his bait, what a nice bloke!
Eventually I made it back round to a swim I had been told was a good one and got the carp rod out and set up the float rod. It was then that I realised that I had left the rod rests and alarm at home. I always forget something but decided to carry on without them. I got the rods in the water and soon the carp rod started shaking and I was into a fish, not a carp but a tench of 5 and a half pounds, the first tench that I have ever caught!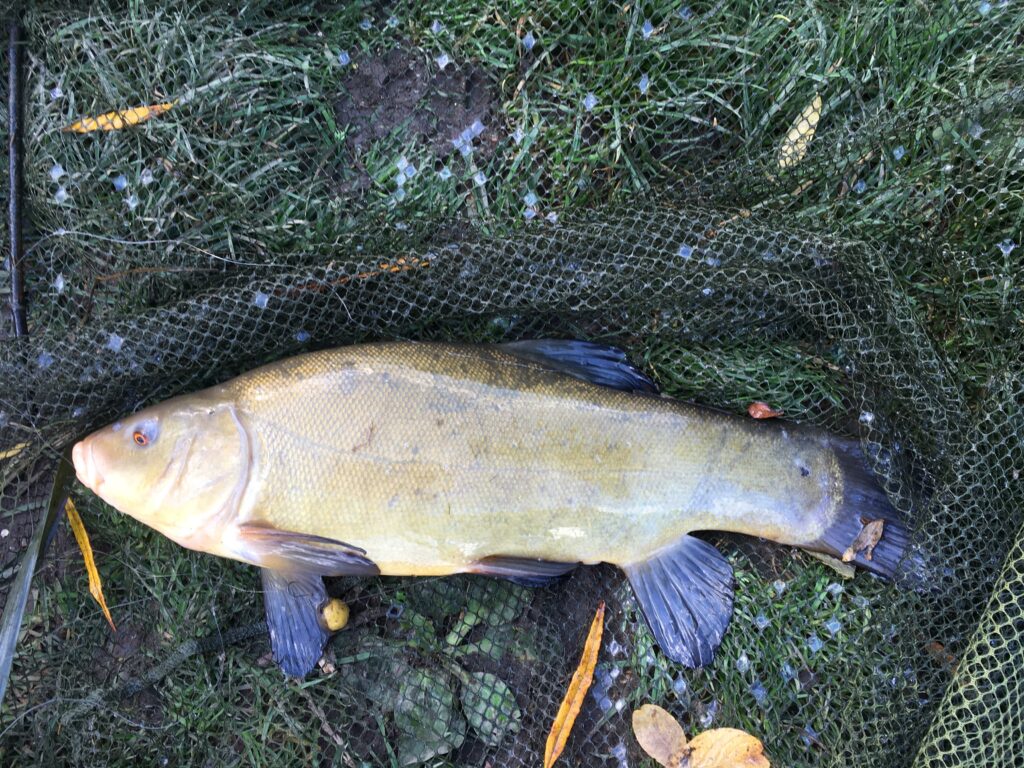 Attention then went back to the float rod and I was busy pulling out tiny roach as seems to be my usual catching style, then the carp rod started twitching again and I was into another fish. It felt different to the tench, livelier and jerky and didn't want to come in so easily but I soon had him into the net. A nice common which weighed in at seven and a half pounds.
Safely unhooked and returned and the rod back in the water and time to catch smaller fish on the float rod. I was catching these all day, must have been 20 at least.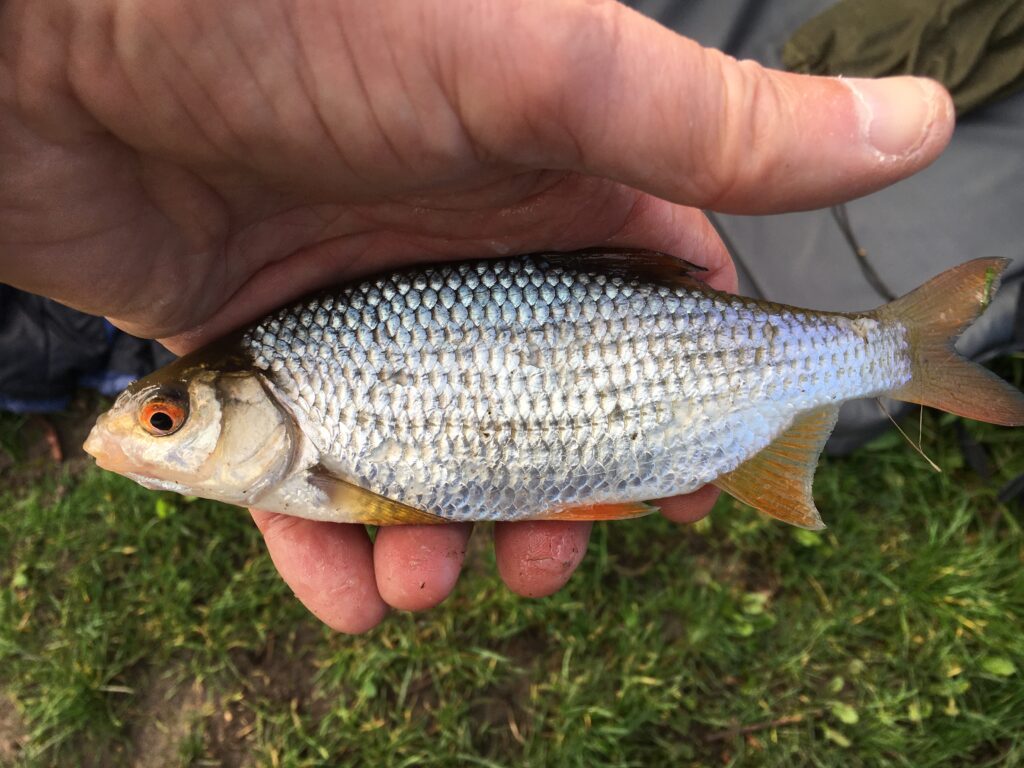 I glanced over at the carp rod and the line was going slack then tight then slack then tight, I picked up the rod and was into a fish! This one was quite different to a tench, much more fight, in a short while I had landed a carp of the same weight.
I caught another carp and another tench during the day, it was a good result and I was well pleased. The sun shone a bit, the wind blew my line into the reeds and the tree, I lost a method feeder, sheltered from the wind, saw a heron and a flock of about 15 swans flying overhead and generally enjoyed being out in the country.
The second tench was an odd one, I was reeling the line in to pack up and he was on the end of it, I have no idea how long he was there! He didn't seem too happy about being caught though, looked very grumpy!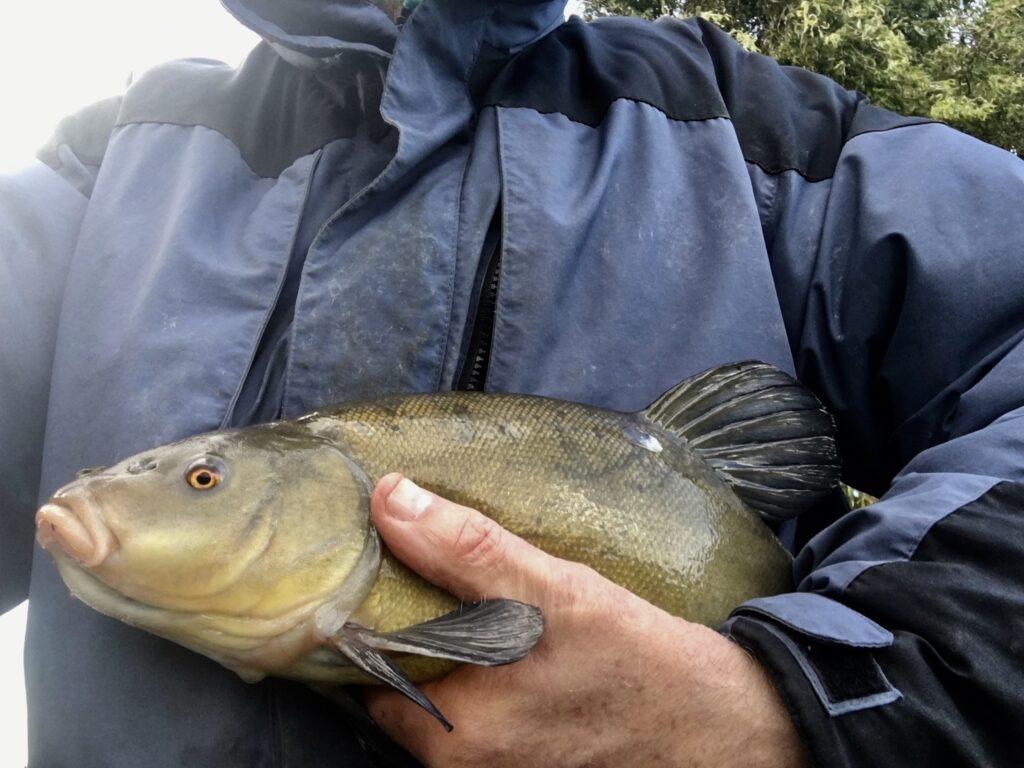 After him I did go home to find that the Mrs had even got the dinner for me, usually that is my job! So, a good day at a lake that I will certainly go back to. Anyone got any tips about how to take a selfie with a fish in one hand and camera in the other?