The weather here out on the East Coast has been sunny but cold with frosts at night and a biting easterly wind. Looking at the club's catch reports some people have been catching but many more have been blanking. Anyway I had enough of waiting for the weather to break so decided not to continue to visit new waters and visit my go to lake where I always manage to catch something.
When I arrived it was still quite early and I was the only one there. One of the advantages of this venue is that you can park right next to the lake and don't have to carry your gear far! I was soon set up with my feeder rod fishing further out than my float rod in the hope of catching something bigger than the usual baby roach. I had previously lobbed in some groundbait and maggots and had maggots on the hook. Soon the float bobbed away and I was into my first fish, a baby roach! Still, it was better than blanking! That was the pattern of the day really, I lost count of the number that I caught and some were bigger than others but nothing special. Still, I was catching! I couldn't try any other bait as I realised that I had left it in the freezer once again!
I still haven't quite got the hang of this feeder lark. I have now got my tangles sorted out and fished all session without problems. The bit that I am still struggling with is bite indication, sometimes I get a quick tap or even double tap then nothing, thinking it is a line bite I leave it for a while but when I pull the feeder in there is a baby roach on the hook. I am not sure whether it pulled the quiver tip over when it picked up the hook and just sat there afterwards or if it just happened to pick up the bait as I was reeling in.
This is the lake where I usually get bothered by swans but they were not around. Instead some friendly ducks came around and I also had a visit from a peacock. I had spilt some maggots while filling up the feeder and while I was concentrating on the float I felt a presence beside me and turning slowly I saw a peacock having a feed. He stayed a few minutes and went off, unlike the ducks who were completely unafraid of me and were eating maggots next to me and around my feet. Later in the day I heard a noise behind me and saw that they were in my pellets tin helping themselves! I was also visited by a robin and saw a buzzard in the distance so decided to get my compact camera out and try to get an elusive picture. This didn't work out as when I turned the camera on it said. "Replace the batteries" and immediately turned off. So much for that idea!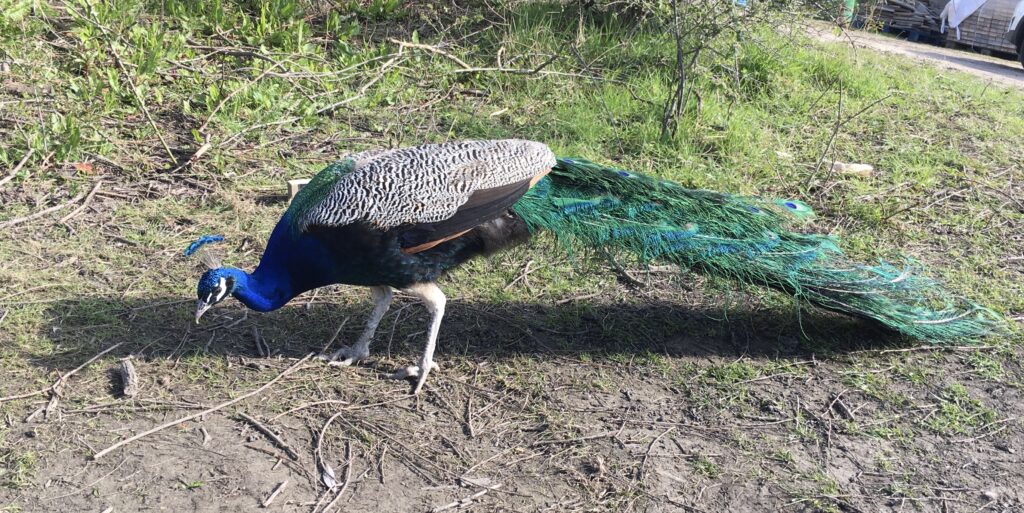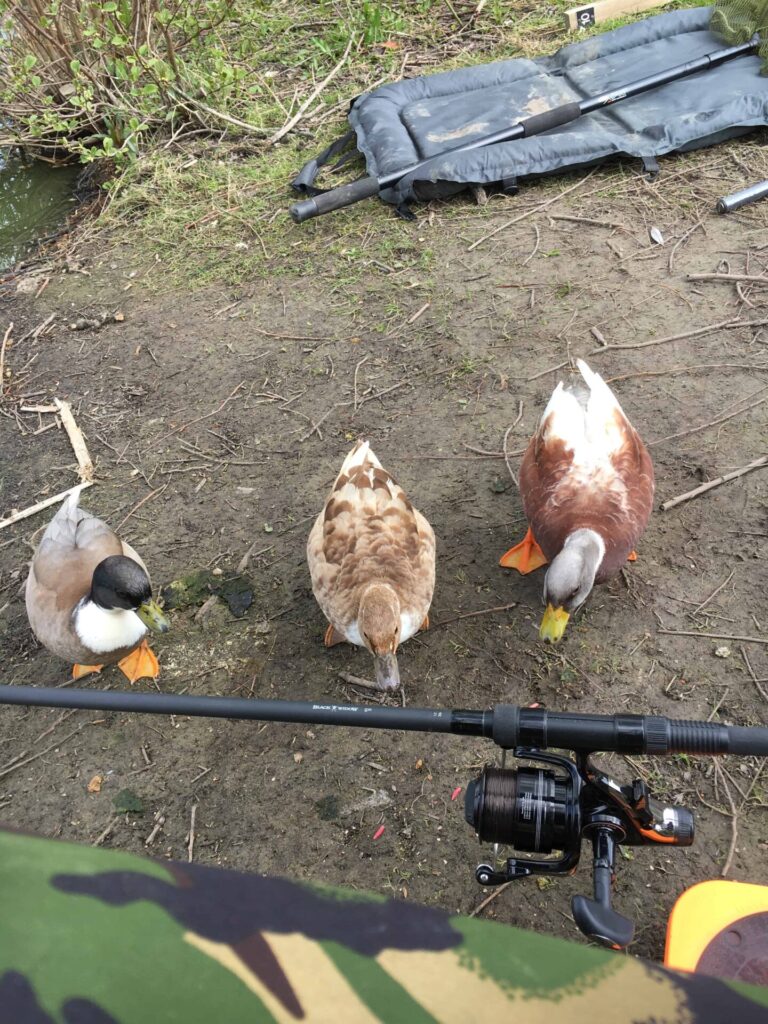 It was getting on in the afternoon and I was thinking about packing up when my hand was forced by a tangle which was the cue to start getting my gear together. Although I hadn't caught anything large I had been catching all day and getting some practice after a fairly long lean spell. I had a nice day sitting in the sun, hadn't got cold and had taken some interesting photos and will go back to visiting new waters next time.