Last updated on January 17, 2021
The time had come to go fishing in a still water and try out my new carp rod. I chose one of the club's less popular lakes as I didn't want a big audience for my first time. When I arrived there were a couple of other anglers but we were well spaced out, which was good for social distancing. I set up the carp rod with a method feeder and cast out then tackled up the float rod. This lake is fairly shallow so the rig wasn't set too deep, I put some groundbait in and was catching fish immediately. A little roach, followed by another and another and another. I am always pleased when I catch a fish but I moved away from the canal to try and catch something bigger so a change of tactic was in order. I swopped from maggots to sweet corn and at last a chance to re-cast the carp rod and have a sit down.
Things went quiet for a bit, giving me chance to have a cup of tea out of the flask and notice the heron paddling in the margins opposite and briefly glimpse the kingfisher which flew over the top of me and away over the lake like a streak of lightning. Then the float dipped and I was into a bigger roach, still only a few ounces but a proper fish!
I won't go on about the day because the story is all about what happened at the end, but it is enough to say that I caught more roach, bream and a baby carp and had a good session. Early in the afternoon I had moved the carp rod and was fishing in the margins next to the swim. I was thinking about packing up and going home when the rod started shaking and moving so I grabbed it before it disappeared into the lake! I gave it a yank and could feel something big, my first ever proper carp!
I tell you, I was sweating! I knew all the theory but here I was with a real live fish to play and desperate not to lose it! I had fairly strong gear on and was able to pull the fish in after a few minutes and get it into my landing net.
Wow! What a feeling! There it was laid out in front of me, the biggest fish I have ever caught! It was hooked nicely in the lower lip and I was able to pull the hook out with my fingers, take a photo and slip it back in. I then had a sit down with a big grin all over my face and an amazing sense of achievement and an understanding of the attraction of carp fishing. Then that was it for the day, nothing could top that so I might as well pack up and go home while I was still on a high. One thing is for sure, I will be back!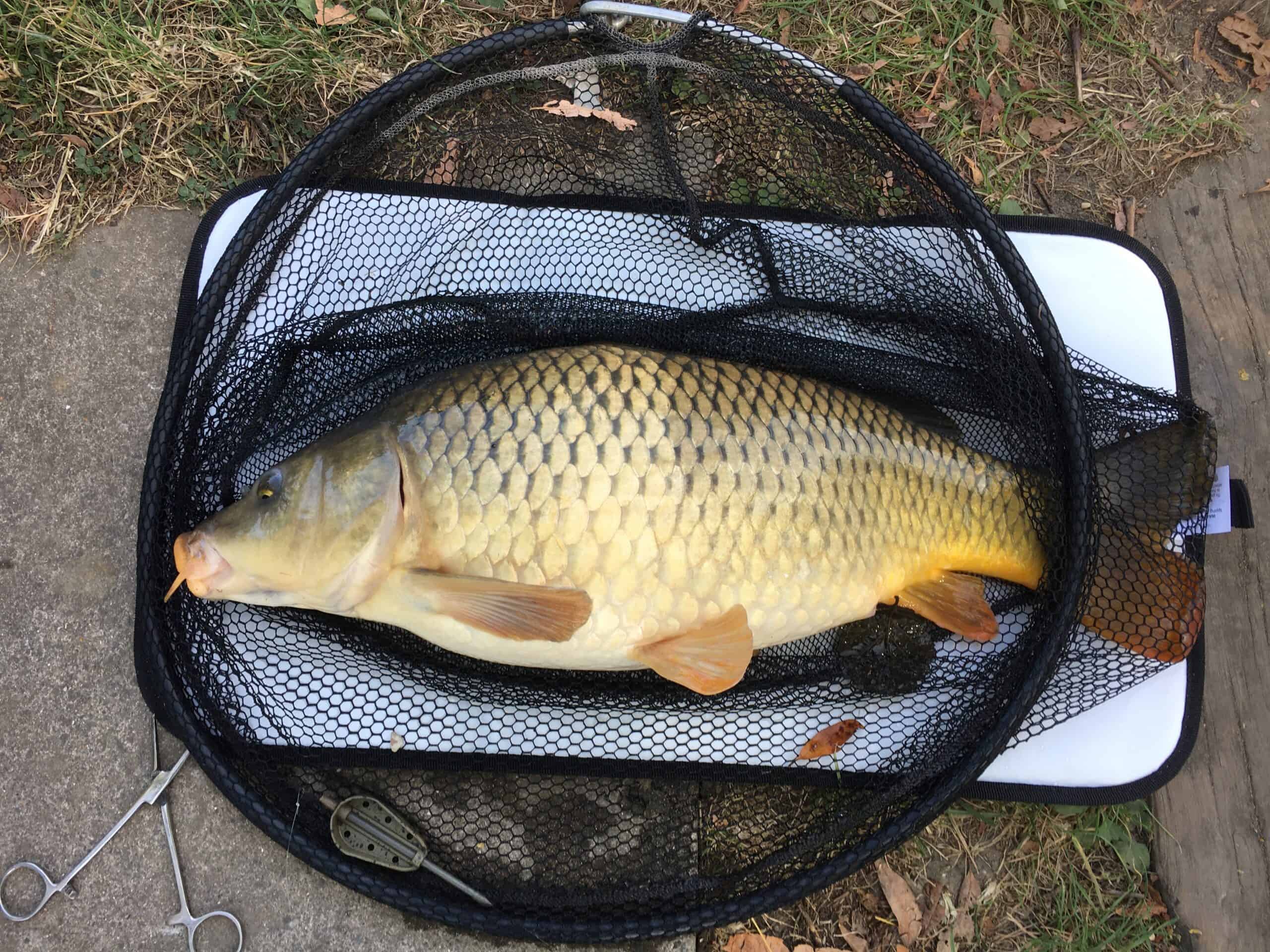 My first ever big carp! I didn't have any scales so don't know how much it weighed but the diameter of the landing net is 20ins or 51cm. And yes, I now have a proper carp landing net and unhooking mat!