Well, it has been some time since I last went fishing as life has been getting in the way but I finally found a free afternoon and evening so thought that I would try one of the other club waters as I had only been fishing the local pond recently. I did have a look the other day and the weed is taking over large areas of the water but there are still holes where you can fish. The club had a session for juniors recently and they all caught something, including the obligatory goldfish and it is great that the water is being put to good use.
During the winter the club has obtained another lake, quite big and a bit of an unknown quantity and I haven't fished there so I thought that I would give it a go. That is until I arrived and found most of the swims taken with a stiff breeze straight into my face. Now I know that it is supposed to be good to fish facing the wind at times but I really hate it and it is not my idea of fun so I turned round and went to an adjacent lake where I have fished before. There was one guy fishing there so we had a chat for a bit before I found an ideal swim, not far from the car park and surrounded by trees and bushes where I could tuck myself away from the wind. I set out my carp rod with a method feeder and cast it across to the nearby island then set up the float rod and thought that I would have a go at catching silvers. The depth was set at only about a foot from the last time I fished the local pond so I thought that I would give it a go and see what happened. (It could have been that I was too lazy to change it after carrying all my gear and setting it up!)
Anyway, I cast out and the float was soon moving around, lifting, going sideways, ducking under but each time I struck I didn't connect with anything. I was fishing double maggots so decided to take one off and was immediately successful with a small roach followed by a rudd and more rudd, none of them very big so I decided to fish a bit deeper to see if that helped. During all this I was regularly refilling the method feeder and casting it out and also catapulted some 8mm pellets that I had to try and attract the fish. I was getting the odd beep from the buzzer which sounded like line bites which was encouraging as it showed that fish were around.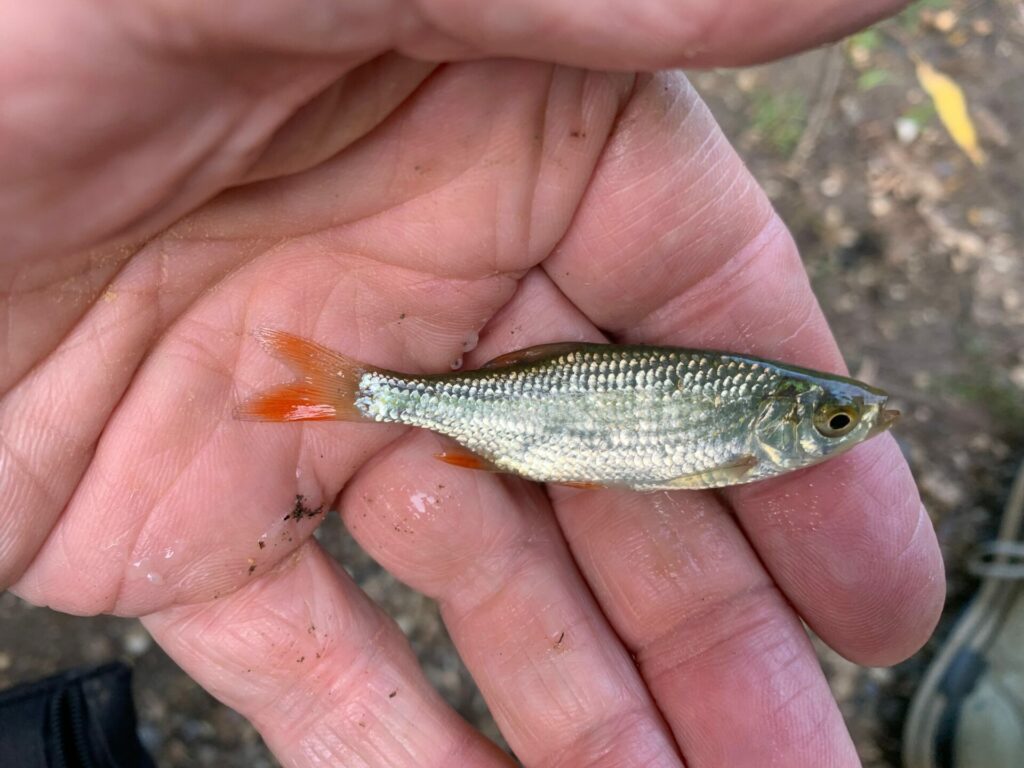 I carried on pulling out the rudd at a fish a cast and for a change pulled out a tiny perch, they are beautiful looking fish, and was enjoying myself watching the float when the buzzer went for real and I was into a fish. I could tell that it was a carp by the way it was pulling and had to be careful as the swim had trees overhanging each side so I had to keep the fish directly in front of me. It is times like this that I find that I need more than two hands, and the arms to go with them! I had to take the float rod out of the water before I caught another rudd and get all tangled up, then I had to reach for the carp net, which was behind me on a flat piece of grass while all the time playing the fish and not letting it slip the hook. I managed to do all this and gradually brought the fish in closer and could see that it was a nice common. After a few minutes I got him close to the net when he did what carp always seem to do and got a new lease of life and was off again. However, he soon tired and I got him into the net and brought him close to the bank where I left him for a minute while I laid out the unhooking mat and got the scales ready. He weighed in at eleven and a half pounds and taking off the weight of the wet landing net was a good nine pounds. I soon slipped him back and he was away while I sat down for a well-deserved rest and a cuppa!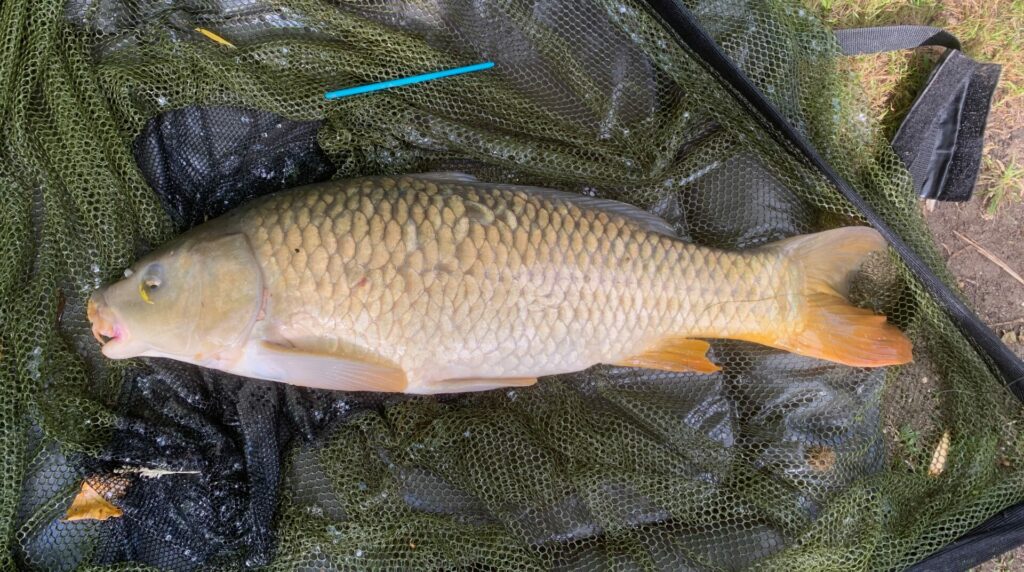 I put out the carp rod again and decided to have a change from float fishing and use my feeder rod to get the bait to the bottom and try to catch something bigger. Last season I changed from a cage feeder to a small method feeder as I was getting all sorts of tangles and it was still on the rod so I used that. I stuck with maggots on the hook and cast out into the swim I had been catching in and waited for the rod to bend around like it does in the YouTube videos. Unfortunately, all I got was some tentative nibbles which I wasn't sure I should strike and even these died away as the afternoon wore on to evening time. In fact it all got a bit quiet, here I was expecting the fish to come on the feed but instead the opposite happened. I wasn't even getting any line bites on the buzzer and noticed that the other angler had packed up and gone home so I was all alone. Not quite all alone as the sound of an aircraft grew nearer and louder until it passed overhead and I could see that it was the air ambulance. It made a couple of circuits and I could hear it landing nearer the town before shutting down. I love seeing aircraft but not the air ambulance as its arrival always means that someone has had a serious accident and can't wait five hours for a road ambulance!
And that was about the last of the excitement for the evening. No more fish and when it got to eight o' clock I thought that I would go home for my dinner. So, my first proper lake session of the year came to an end with a decent common and plenty of small fish to keep me busy! Nothing on the feeder rod though, I will really have to think about what I need to do to improve and now that I am back fishing think about what I want to achieve this year. I have had a couple of summers now and caught some nice fish. Time to ring the changes I think.