Last updated on July 5, 2021
At last it had stopped raining and I had a few hours in the day to go fishing. I decided to return to a series of club lakes that I had fished a couple of times before and try again in the lake where I had previously blanked. As it contained a mixture of fish I took my feeder rod and float rod. It was mid-morning when I arrived and I got my first bite before I got to the swim! Something had bitten me on the back of my hand which quickly swelled up and became quite puffy. I tend to attract insects which bite and can get quite swollen so I always carry Anthisan bite cream and insect repellent so it was a quick application of both and on with the fishing.
I decided to fish in the swim next to the one where I blanked before, baited the swim and set the rods up. I realised that the float rod was still set up for the river instead of having a waggler for still water but decided to carry on regardless. Immediately the float dipped and I was into a small rudd, followed by another and another and another! Then I had a bite on the feeder and yes, you've guessed it, another rudd. After a while of pulling out rudd on the float rod I decided to put it aside and concentrate on the feeder rod as I still don't think I have got the hang of it yet. I think what I was doing wrong was not to strike when I had the first knock or two and instead wait for it to develop, which often it didn't. After a while I began to get the knack and began pulling in rudd. I had hoped that being on the bottom it might attract different fish like tench, which the lake is known for. When I picked up the float rod it was in a terrible tangle so I ended up cutting the line and re-rigging with a waggler float after all! It really puzzles me how fishing lines can tangle just by putting them down and lifting them up again!
Sometime during all this it began to rain so I put up the brolley and collected my gear under it. As it was not windy I was able to put it up to its full height and tied it to my camping chair for security. This gave me room to carry on fishing fairly comfortably and stay dry. I went back to the float rod and carried on catching rudd. They weren't particularly big, say four or five inches, but it was better than catching nothing. I did think about moving swims as there was plenty of space but the rain showed no sign of stopping and as I didn't want to get everything wet I stayed put. I was fishing above the bottom and the bites were amusing, the float would be going sideways, lift, sink, anything you could think of! It didn't matter when I struck it seemed that half the time I wouldn't connect with a fish and when I did some of them would drop off before I could swing them in. It maybe the hook, which has been on there quite a long time and I could feel that it was getting blunt by the way the maggots were resisting when I tried hooking them.
Then the float did something different, it shot under and I had a little perch but pretty soon it was back to the rudd. Just occasionally I caught a bigger one and needed the landing net and funnily enough this was when I was fishing nearer the bank. It was soon lunchtime and I did something that I had never done before, I took the rods out of the water so that I could eat my lunch without interruption! Usually I hope that sod's law will apply when I have a cuppa in one hand and a sandwich in the other and I will get a bite.
I had the usual visit from a robin during the session. Although this one was very young he had his eye on my maggots and wasn't too scared to come close and eat the ones I threw for him. I don't know how they learn that anglers are good for food but his one must have learnt at his mother's wing!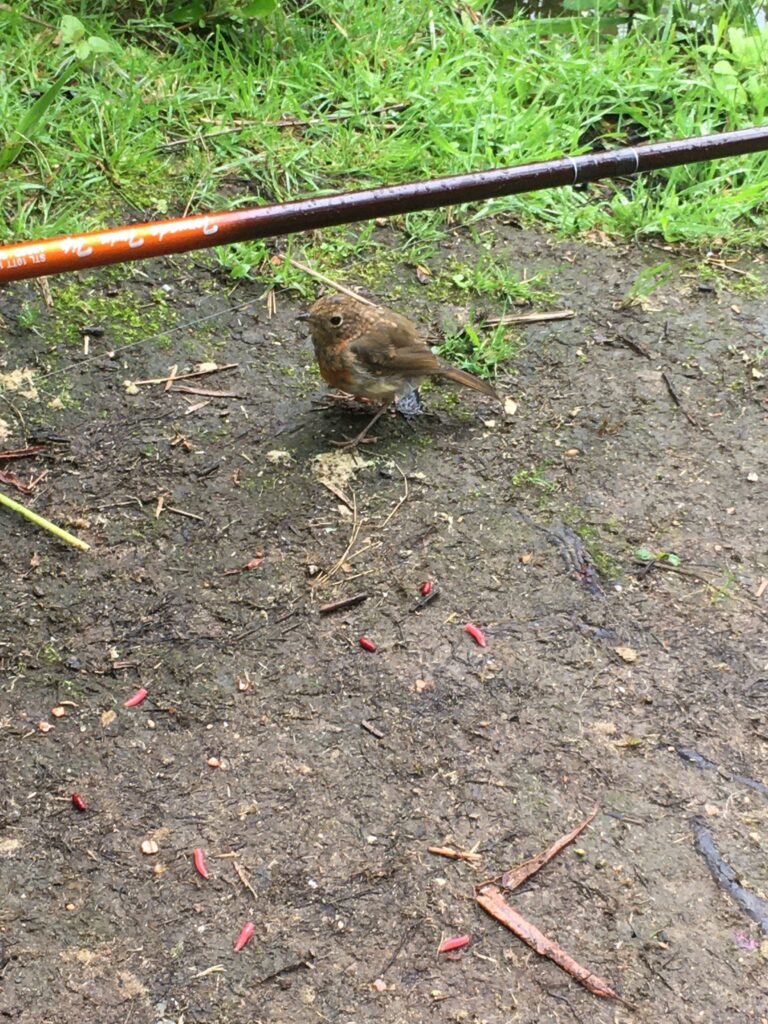 So, back to the fishing and more rudd. By mid-afternoon the rain had eased and eventually stopped and I was thinking about going home when I hooked several bigger rudd and a run of perch. My final tally was 32 rudd and 6 perch, not a bad session!
I had hoped to catch bigger fish but at least I had an entertaining day and caught something! I want to go back to a couple of the waters which I only fished once last year and will take my carp rods as well and see if I can catch something decent sized.