A couple of trips this week, the first to the local canal with the Mrs, her first time out with me and she only came because I promised we wouldn't be long and she could bring her knitting! I even gave her the comfy chair while I perched on an old stool that I had when I was a kid! How's that for love and devotion? Anyway we didn't take the car as it is less than ten minutes walk but my rucksack got heavier and heavier on the way, must give it a clear out again!
The fishing was poor, I put the feeder rod out but gave up after a while as every time I brought it in it was covered in weed and I suspected that the bait was hidden from the fish. I only had one bite on the float rod which was a small rudd. This time last year I was pulling roach and rudd out of that spot every cast! Anyway I got fed up when I cast into a tree and had to re-thread the rod so we came home. Funny thing is my wife said that she actually enjoyed it!
I woke up early the next morning and as there were no plans for the day I thought that I would go to one of the club waters where I had success before with carp and tench. I arrived about eight, which is early for me, and as there were only a couple of anglers there I was able to choose a swim with no trees overhead! There was a bit of a chilly breeze though so I set up my brolly to give me shelter, it is still cloudy here in the east although it did brighten up a bit during the day. I was fishing method feeders on the carp rod and feeder rod with boilie and sweet corn as baits. I cast the carp rod far out and fished the feeder rod close in near a reed bed.
Time passed and not much happened apart from me filling up the feeders regularly and a squirrel coming to visit me. It was a nice spot and very peaceful so I was trying to enjoy that and be patient and not get frustrated at not catching. I also decided not to persevere with the same methods and to change things around a bit so put a smaller hemp boilie on the carp rod and maggots on the feeder. I did get a few knocks on the feeder but didn't manage to catch anything.
My thoughts were miles away when I heard a voice from behind my umbrella, it was a bailiff asking to see my membership. This is the first time I have ever seen a club bailiff and I think it is because people have been leaving a mess and abusing the waters. He told me that other people hadn't been catching much either, which made me feel slightly better, maybe it is these north and easterly winds that we have been having for a couple of weeks now. Later in the morning I changed to the float rod and immediately began catching rudd quite close into the bank. This kept me occupied for a while as it was a nice change to be catching but as I have said before I had hoped to have moved on to catching bigger fish. As it was lunchtime I took the float rod out and just left the carp rod so that I would get some peace in which to eat my sandwiches.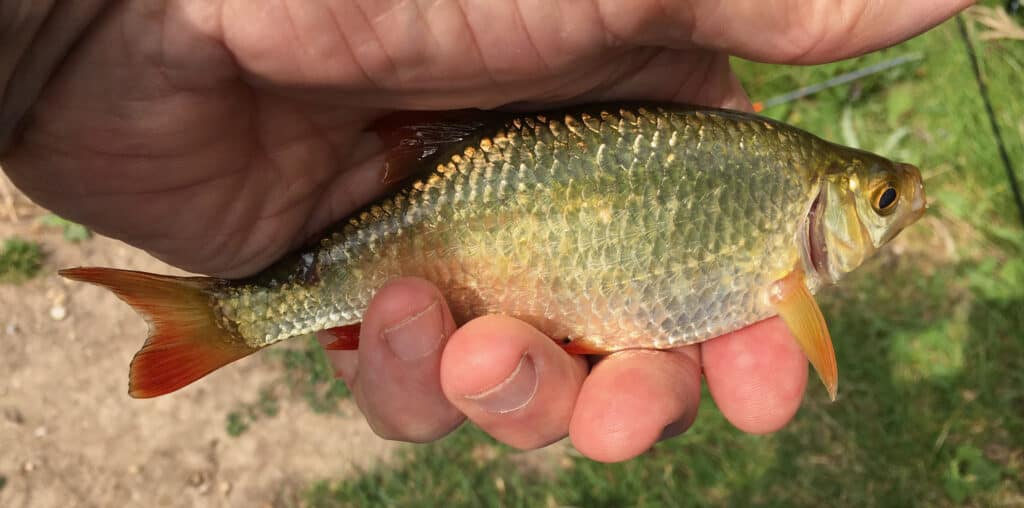 While I was eating I thought about why I wasn't catching. I had seen carp jumping, bubbles in the water and rings where they were coming to the top, I had changed tactics, used groundbait and particles but still wasn't having any luck. I decided to make another change and fish the carp rod closer in where I could catapult some pellets and boilies and go back to the feeder rod with a pellet on a hair rig but before I could I had another visit from a different bailiff, the club are certainly patrolling their waters well at the moment!
I set up the feeder rod and put it back out next to the reed bed and relocated the carp rod. Just as I had got it set up I noticed that the quiver tip was bending round and the rod was jumping. I quickly picked it up and I was into a fish, I wasn't sure what it was as it was shaking its head just like a carp and I had to play it fairly gently as I was on quite light line but on the other hand I couldn't let it get into the reeds. After a short fight I got it up to the surface and could see that it was a tench. I netted it with my coarse net, which was probably a mistake as it only just fitted and the handle bent alarmingly and quickly had it on the mat for a photo. I did notice that it had quite a bit of mouth damage and turned it over for the photo to get its better side.
I decided to weigh it as I am not yet experienced enough to guess accurately and it came in at exactly four pounds. On its return to the water it quickly swam away and I put the feeder rod back in hoping to catch some more. Then it was back to the carp rod and a few minutes playing with my catapult firing out boilies. I had had one or two bleeps on the buzzer but nothing that developed into a bite so decided to give it a bit longer then get my other rod out and fish an adjustable zig rig in case the fish were feeding higher in the water. It didn't make any difference as I didn't catch anything else and by mid afternoon I packed up and went home. Before I left I took a final look around and a couple of photos of the swim to show that I had left it in good order. It is such a shame that mindless morons can spoil things for the majority but it seems to happen in all areas of life.
So, not a great session but I did catch one decent fish, I am beginning to wonder if I had beginner's luck last year or maybe it is the high pressure and cold winds stopping the fish eating, I will just have to wait and see!