I was a bit peeved that I had not caught anything last time out so a few days later I went back to the same venue. This time I chose to fish in the furthest lake and had a chance to try out my new rucksack, which was great. It was fairly comfortable and sat securely and was not too heavy and left my arms free for rods, chair and unhooking mat.
There weren't too many swims to choose from as the lake is quite small, longish and narrow in shape so I sat myself down in the sun and away from overhanging trees so that I wouldn't cast into them! I set my carp rod up more quickly this time, having had a practice last time and decided to go for the method feeder with a popup boilie. Once that was done it was time to get the float rod out and do a bit of active fishing! It was not too deep, say about 5-6ft so manageable with my 10ft rod. First cast and almost immediately I had a fish, a roach, small but not a tiny one and definitely worth catching, no blank for me today!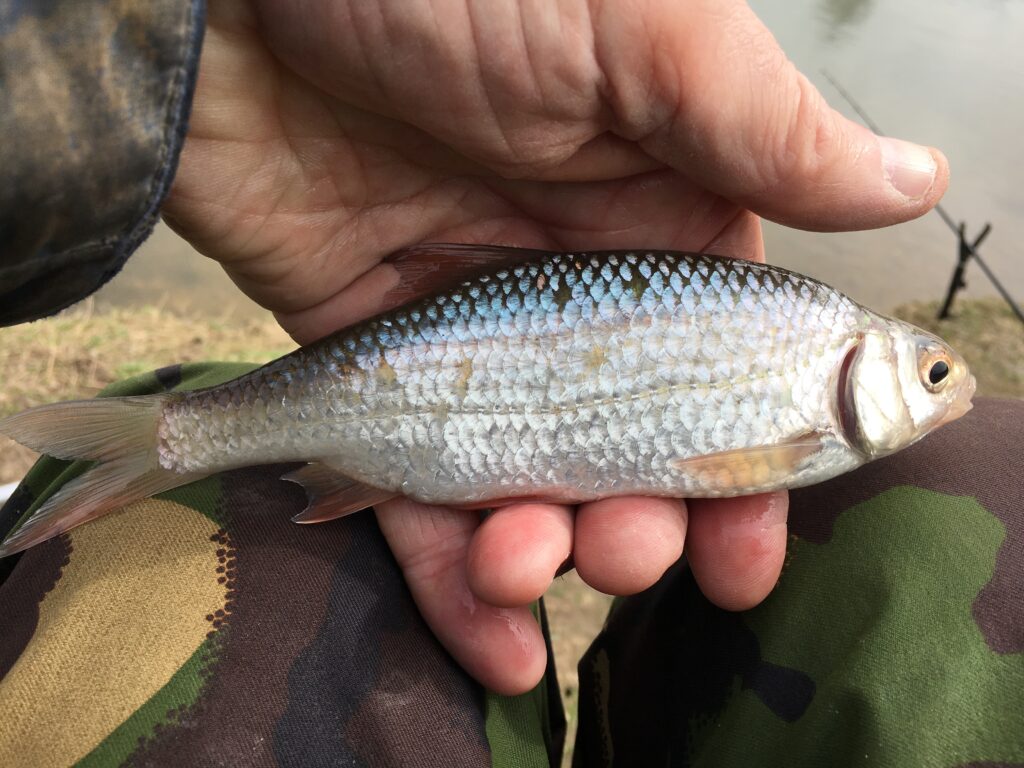 The next fish took a little while but after that they kept coming at regular intervals and I ended up with eleven for the session. In between catching I kept filling up the method feeder and casting around trying to find the fish. Then I saw a decent carp cruising along by the opposite bank so I quickly retrieved my gear and cast towards the fish. The lake was just too wide for me to cast underarm so it was an overarm effort straight into the trees on the opposite bank! By the time I had retrieved the line, minus the feeder, the carp was nowhere to be seen so I tackled up again steadily and tried to cast as far as I could towards where it had been.
The day wore on, even though I was a long walk from the car park one or two anglers came to see me and have a chat. A little bit of me was pleased that they were blanking on the lake I had fished earlier in the week and I was catching! The forecast wind didn't pick up and it was a delightful day, the sun was warm and the birds were singing. I saw a buzzard gliding over the lakes and tried to take a picture with my camera phone but it didn't come out very well, I resolved to take my proper camera in future. This lake was free of swans, thank goodness but had its fair share of ducks, they would swim by every so often and looked interested when I threw some groundbait in but wouldn't come too near me. The afternoon passed with me catching a roach just often enough to keep me interested and I was thinking that it would soon be time for me to pack up. One last underhand cast with the method feeder and crack! It was gone! Two lost today and no more in my box! As it was getting towards home time I put the rod away and concentrated on the float for a few minutes. I got a bite, struck and missed it, the line wrapped itself in an almighty tangle around the tip of the rod and that was that. One look showed me that it was going to take ages to unravel by which time it would be time to leave so I decided to do it at home.
Thinking about the day I realised that I often went home with one rod or another in a tangle and that is what makes me stop for the day. None of this "One last cast," business more, "One last tangle" for me! I have to say that it is easier to sort it out on the bench in my shed rather than on the bank. To be honest it usually consists of cutting the line, saving the hook length if possible and rethreading the rod ready for next time. The line still seems OK on the reel but one day I will have to buy some more as I will have used it all up!