When I was growing up I always fished in rivers and I suppose that I still think that this is proper angling, going after wild fish that don't live in a managed environment. I had tried the local river in the summer but access was difficult and I had been waiting for the nettles to die down along the banks. In the meantime I found a swim only a short walk from the road and with no nettles or grass as it was sheltered under trees. These made it a bit difficult to fish so shorter rods and underarm casting were needed but as it was only a small river or large stream this wasn't a problem.
On my first visit I didn't know what to expect, the water level was fairly low and the water itself quite clear so I could see the bottom in places. I did my usual thing of putting out a feeder rod and actively fishing the float rod but wasn't getting any bites with the feeder so concentrated on the float. I had a good day trotting the float and catching every few minutes. There was a variety of fish there including a gudgeon and some roach and chublets, not forgetting minnows! These became a bit of a nuisance and I changed hook to a larger size to try and avoid them but no luck, they continued to swallow the bait and hook kamikaze style and could be difficult to unhook. Nevertheless I had a good day and decided to go return another day.
A couple of weeks later I tried again, it was now late November and the river was a bit higher but I could still see the bottom in places. I had another good day mostly catching roach and there didn't seem to be as many minnows. Then the float dipped decisively and I was into a bigger fish, not enormous but bigger than anything I had caught that day. As it came to the surface I saw that it was a perch and was thrilled to get it into the landing net! The only perch that I had caught so far were tiddlers and this was a proper fish, it weighed in at 1lb 7 oz and was a personal best. Some quick photos and an admiring look and I lowered it back in the river and after a few moments it was away.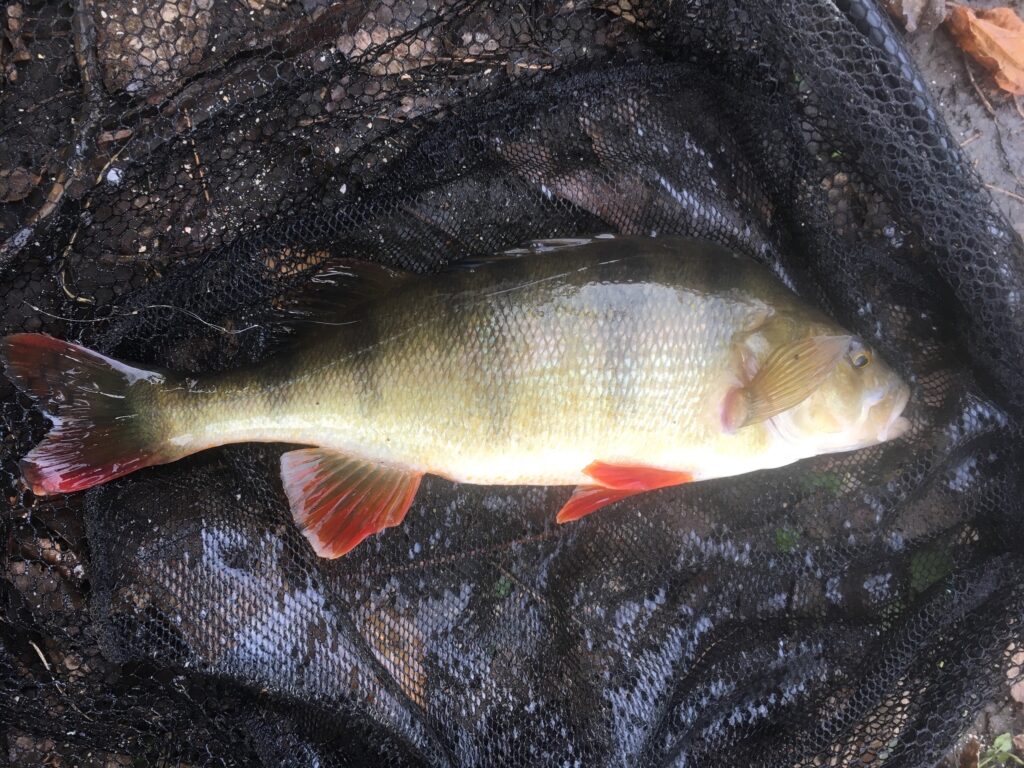 Things went quiet for a bit and after a while I decided to pack up. I had landed 24 fish in that session and some of them were more than tiddlers! I went back a couple of weeks later but by then it had been raining a lot and the river was in flood. I couldn't find and cast to any back eddies or sheltered spots and only caught one fish with my first cast on the feeder rod. I thought that I was in for a great session after that fish but it was downhill all the way!
After that I kept my eye on the river levels on the Internet, I knew what was too high and as it continued to rain I didn't get back there for a few months. In fact I had a bit of a break after Christmas as it was either pouring, snowing or frosty but it did give me chance to reflect a bit and sort out my gear, more of which in my next post.