After fishing in the starter lake for a while without too much of an audience and having caught my first big carp and lost one I was feeling more confident about moving on to a more popular lake. I had driven past a while ago and knew that there would be people there.
It was sunny with a cold wind when I arrived and as I got out of the car a guy started talking to me. I presumed he knew what he was doing as he had all the gear and a bivvi set up to shelter from the wind. While he gave me the low down I had a good look around at a nice lake and also a smaller one the other side of the car park. After finishing our chat I went to have a look at this one and quickly decided that it would have to wait until another day as it was very exposed to the wind with little shelter. Back to the other lake and a walk round to find a swim.
I decided to fish in a swim on the windward side of the lake, which had a belt of trees behind it to give some shelter and then learnt my first lesson of the day. At the old lake I could just get my stuff out of the car and put it in the swim, here I had to walk fifty yards with my ragtag collection of bags, rods, landing nets, bank sticks etc. There was too much to carry at one time so I had to make two trips leaving my gear at the swim as I went back for the second load, not ideal.
Still, the swim had a nice area around it and was fairly clear of trees overhead so I was able to get my carp rod in the water while I set up my float rod and baited the swim. It was then that I learnt another lesson as a quick phone call to my wife confirmed that I had left my frozen sweet corn in the microwave! Still, I had maggots, pellets and bread so decided to carry on regardless.
After five minutes I still hadn't had a bite! On my last lake I would have been inundated with bites from baby roach from the start with the slightly bigger fish coming in later, usually on sweet corn. So I began the tinkering, fishing deeper, fishing shallower, changing bait, casting a bit further away, feeding the swim, anything to get a bite!
Then it happened and I pulled in the smallest perch that I have ever seen, followed by one of those tiny roach, which I thought meant the bigger fish were on their way but this time they weren't.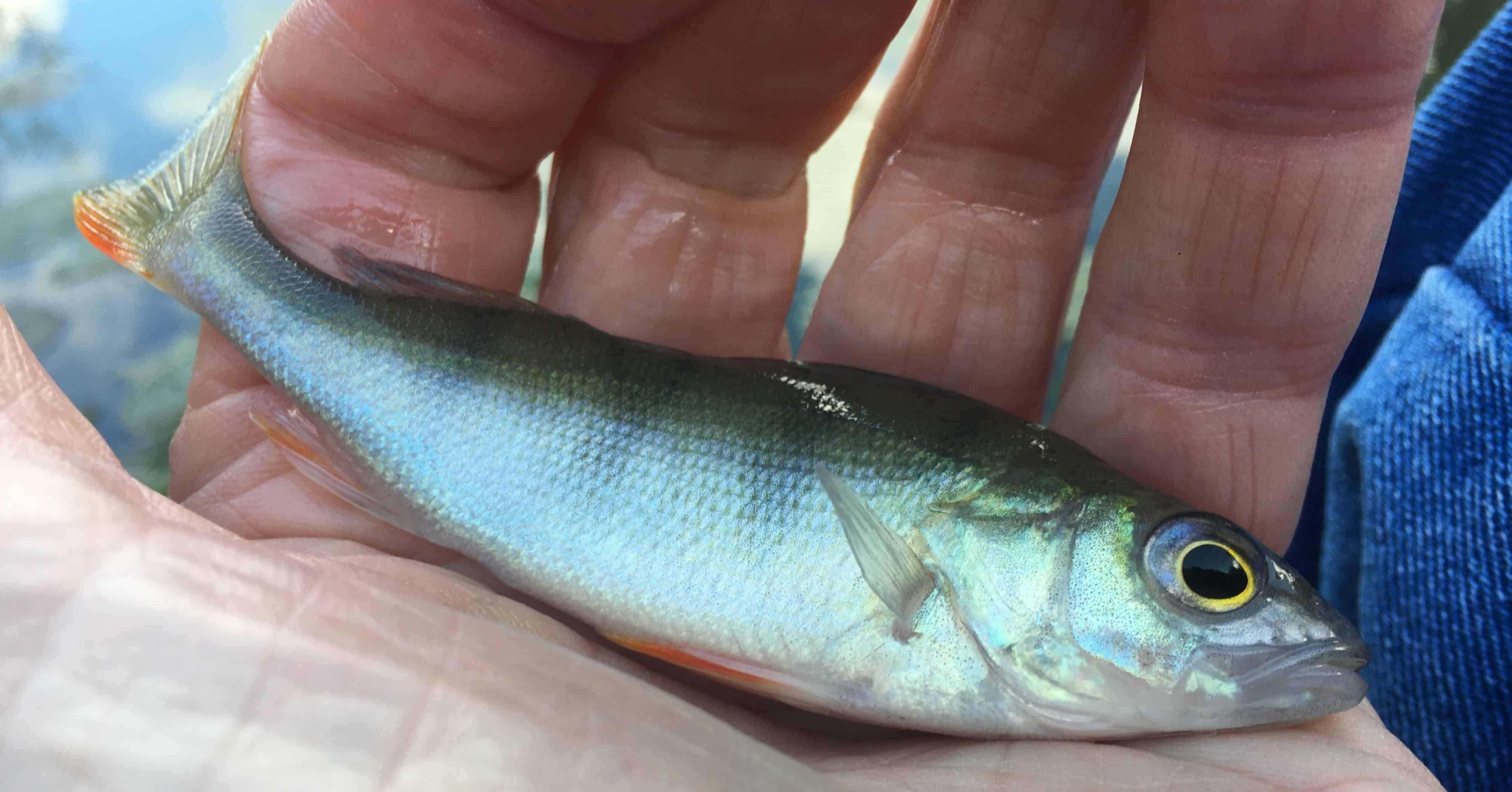 Then the buzzer on the carp rod sounded and I picked up the rod and started to reel in. However the fish had different ideas and made straight for the fallen tree next to the swim and broke the line. Of course, this all happened just as another angler was passing by on his way to set up at the swim next door. He looked a lot more experienced than me and even had a trolley for all his gear and as he stopped to commiserate I explained that I was still a beginner he gave me some advice on how I should have played the fish!
Carp score in my angling career so far: Hooked three, landed one. I will have to do a bit better than that!
So the day passed, a couple more tiny roach and an even smaller perch, feeling chilly from the wind, having lunch and a cuppa from the flask and casting out every now and again. I was trying something new on the carp rod using PVA mesh for the first time with a mixture of boilies and different size pellets and was pleased that I had a bite so decided to persevere with that method. By now it was mid afternoon and I was feeling peckish so I got a banana out of my bag, opened a packet of crisps and poured myself a cuppa and relaxed, looking out at the scenery. That was when the carp buzzer sounded again! I jumped up, spilling the crisps onto the floor and launching the banana into the lake!
I grabbed the rod and was into a fish. After last time I was a bit more forceful with this one but it wasn't as lively as the first and soon came in, a mad scramble for the net and the fish was landed, 3-2! Now that I had the right gear I laid the fish on the unhooking mat and easily took the hook out then weighed it on my new scales using the new weighing net, 12lb 5oz! OK, so not a record but a good fish for only my second carp, it looked lovely as well. A quick photo then it was back in the water and I had a moment to sit down. I managed to get most of my crisps back into the bag, gave up on the banana and didn't fancy the tea as there was something unidentifiable floating on the top!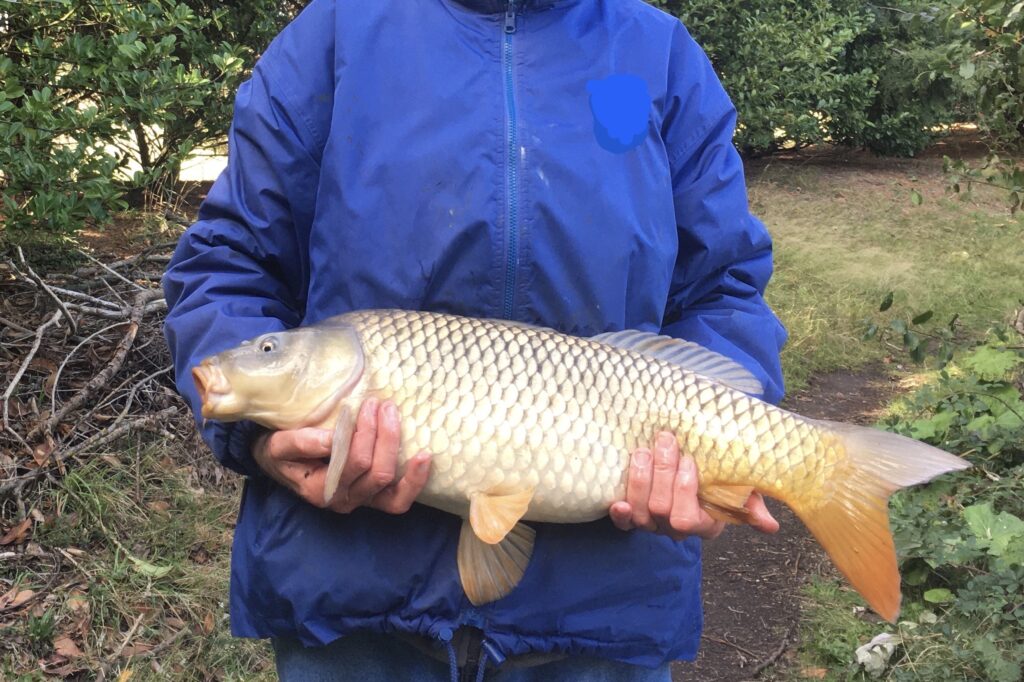 That was the day really, no more excitement although they guy next door caught a couple and I watched him bring them in. This confirmed that he was more experienced than me, he controlled the fish well, had everything to hand and was calm and collected, everything I wasn't.
So, what did I learn? Well, quite a bit. I have to be more organised by cutting down on what I bring. One large rucksack would be better than three backpacks and two tackle boxes and leave my hands free for other stuff so it will be back on to ebay to see what I can find. I have to be more organised at the swim and have everything in the right place for when I catch a carp instead of scrabbling around for it at the last minute. I will also have to think about warmer clothing as the winter sets in. I also learnt that I can catch carp and that the first one wasn't just a fluke, oh yes, and another thing, I must remember to bring my bait!